Enzymatic Digestion of Fresh-Frozen Human Cornea After Riboflavin/Ultraviolet-A Collagen Crosslinking
Keywords:
Corneal crosslinking, collagenase, pepsin, trypsin
Abstract
Objective: Crosslinking (CXL) of the cornea by using riboflavin (RBF)/ultraviolet-A (UVA) has been developed for stiffening the collagenous matrix of the cornea. Collagenases and other metalloproteinases are known to play an important role in the pathogenesis of corneal ulceration. Our aim in this study was to show and compare the morphological and histopathological changes of the CXL human corneas against enzymatic digestion by collagenase, trypsin and pepsin solutions.
Materials and Methods: Eighteen corneas from nine fresh frozen cadavers were included in this study. The crosslinked group (n=12) was treated with the combined riboflavin (RBF) and ultraviolet-A (UVA) and the control group (n=6) was only treated with RBF. After treatment corneas were exposed to collagenase, trypsin and pepsin enzymes. For each enzyme group one cornea was evaluated morphologically and the other one was evaluated microscopically.
Results: The collagenase treated control group, digestion of the cornea was noted in the first days and completed on the 5th day. The control cornea treated with pepsin was fully digested after 14 days. In the trypsin treated CXL cornea complete digestion was noted after 18 days. In both groups, enzyme activity was observed to be parallel to each other morphologically, but CXL cornea was evaluated to be more resistant to enzymatic digestion.
Conclusion: In conclusion, CXL increases resistance of the cornea against enzymatic digestion. In addition to the biomechanical support, this study was also showing the histopathological changes of CXL procedure and the results of enzymatic digestion, supporting new treatment options in the corneal diseases.
Downloads
Download data is not yet available.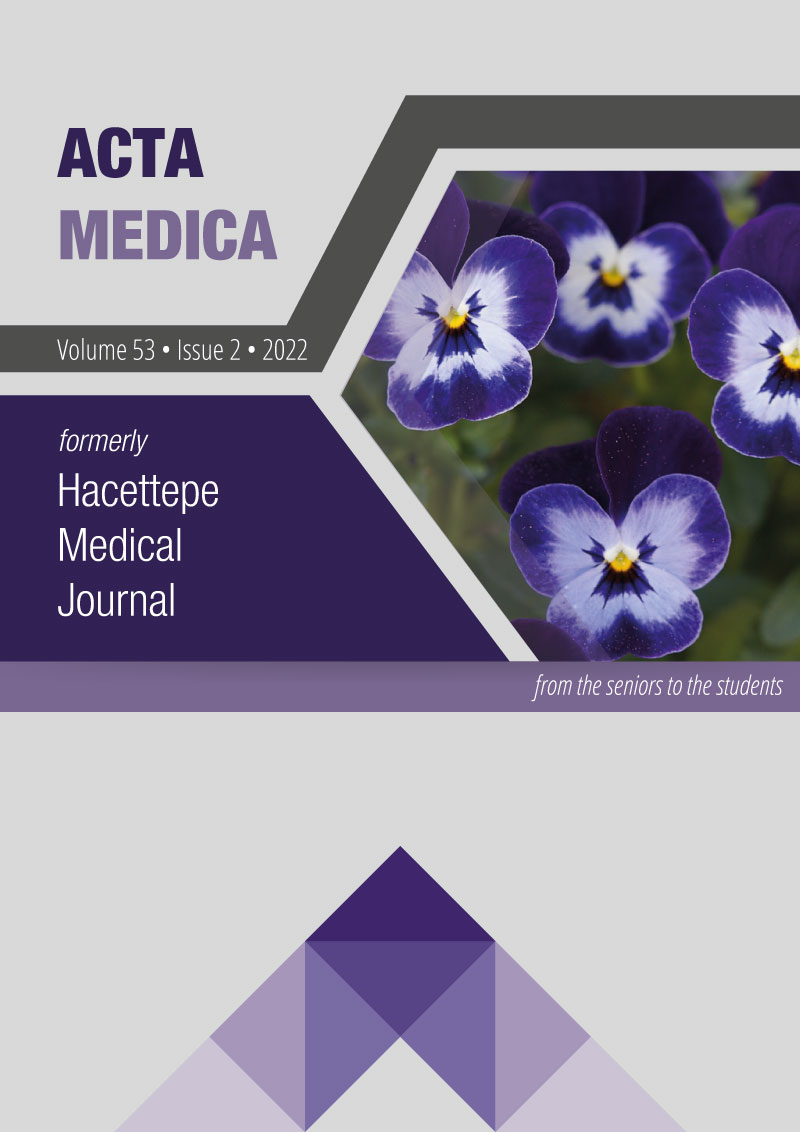 Downloads
How to Cite
Fırat, A., Yalnız Akkaya, Z., Dikmetaş, Özlem, & Hayran, H. M. (2022). Enzymatic Digestion of Fresh-Frozen Human Cornea After Riboflavin/Ultraviolet-A Collagen Crosslinking. Acta Medica, 53(2), 158–165. https://doi.org/10.32552/2022.ActaMedica.726
License
Copyright (c) 2022 Acta Medica
This work is licensed under a Creative Commons Attribution-NonCommercial-NoDerivatives 4.0 International License.