Clinical Progress and Prognosis in TIA: Experiences of a Specialised Neurology Hospital
Keywords:
TIA, recurrent TIA, TIA etiology, branch hospital, specialized neurology hospital
Abstract
Objective: The current development of acute stroke units led to an increase in morbidity of stroke patients while causing a decrease in overall mortality. Therefore, the cost of stroke care and treatment took a serious toll on national economies worldwide. Primary prevention of stroke should remain the main objective of primary healthcare. Following a transient ischemic attack (TIA), the patients have a 10-20% risk of developing an ischemic stroke. Our main objective in the present work was to summarize risk factors, imaging modalities, etiologic factors, and treatment modalities in TIA patients and to determine the rate of recurrence of TIA and ischemic stroke incidence in 1 year follow up in an academic medical center specialized in neurology.
Method: 119 patients with TIA who received inpatient management in a 3-year period were included in this study. Patients were grouped by age, gender, distribution and duration of symptoms; recurrence, risk factors, and history of antiplatelet/anticoagulant use. A routine stroke protocol was followed for all patients. The patients were stratified by OCSP and TOAST criteria. The patients were re-evaluated at 3rd, 6th, and 12th months after discharge, and new stroke/TIA occurrence rate, risk factors and the presence of ischemic lesions on neuroimaging were recorded.
Results: Of the patients who were included in this study, 52.9% was male, 42.1% was female. 87 of the patients (73.1%) had anterior circulation and 32 of the patients (26.9%) had posterior circulation pathologies. Recurrence of symptoms was observed in 60 patients (50.4%) after the first event. Diabetes, hyperlipidemia and hypertension were discovered to be the closest risk factors to be proven statistically significant. Posterior circulation TIA, and cardioembolic TIA ratios were more frequent when compared to the literature. During the one year follow up 8.4% of the patients reported experiencing new ischemic stroke or TIA, and only 2 patients died.
Conclusion: Tight risk factor control and adherence to treatment protocols selected based on etiology are critical to decreasing ischemic stroke incidence following TIA.
Downloads
Download data is not yet available.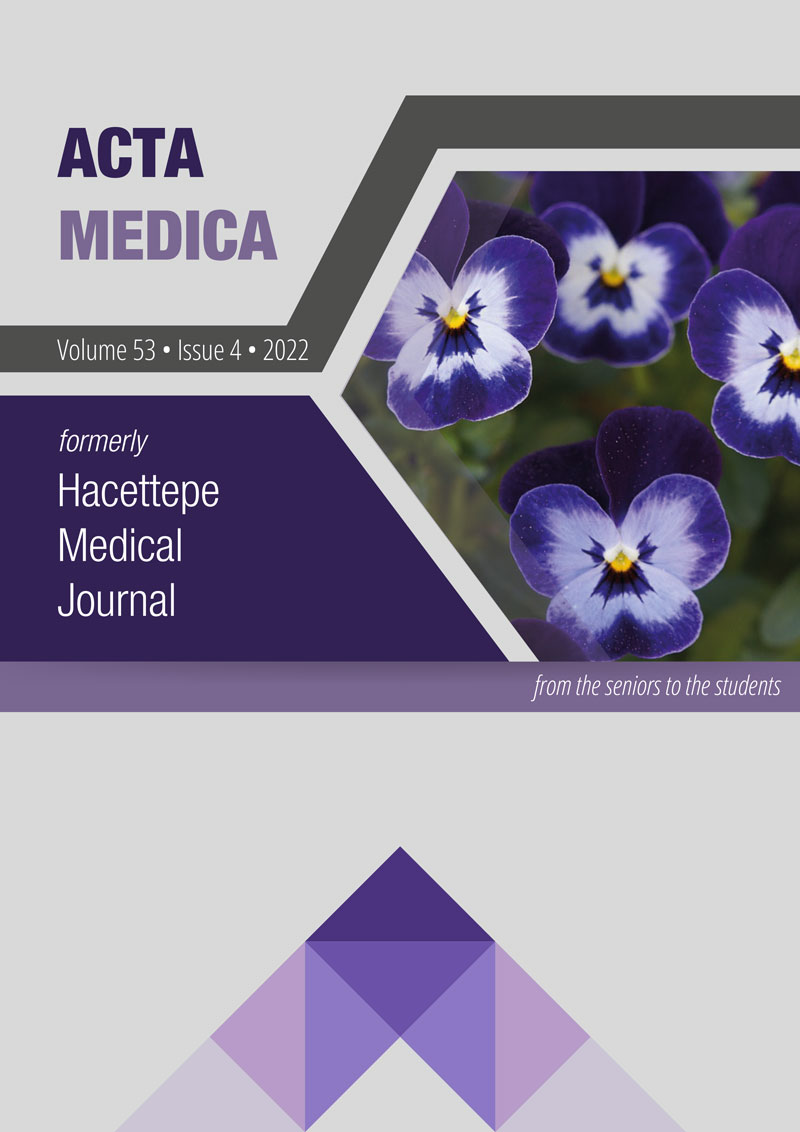 Downloads
How to Cite
Kalyoncu Aslan, I., & Salt, I. (2022). Clinical Progress and Prognosis in TIA: Experiences of a Specialised Neurology Hospital. Acta Medica, 53(4), 342–349. https://doi.org/10.32552/2022.ActaMedica.752
License
Copyright (c) 2022 Acta Medica
This work is licensed under a Creative Commons Attribution-NonCommercial-NoDerivatives 4.0 International License.