The Impact of Covid-19 Pandemic on the Clinical Course of Pediatric Skin Disorders: A Cross-Sectional Study
The Impact of Covid-19 Pandemic on Pediatric Skin Disorders
Keywords:
Covid-19, pediatrics, skin disease
Abstract
Objectives: As Covid-19 infection continues to affect both the pediatric and adult populations, new-onset and pre-existing skin diseases in addition to the skin diseases with exacerbation, are frequently being reported as the cutaneous manifestations of the pandemic. In the present study, the aim was to investigate the impact of Covid-19 pandemic on the clinical course of the skin diseases observed in the pediatric population.
Materials and Methods: A web-based survey related to the cutaneous disorders seen in the pediatric population (0-18 years) prior to the pandemic and during the pandemic, was formed. The survey was spread using snowball sampling method. The questionnaire was asked to be filled by the parents. Demographical data, Covid-19 related questions, the presence of the new-onset skin disorders and the clinical course of the pre-existing cutaneous diseases during the pandemic were questioned.
Results: Two hundred ninety one children aged between 0-18 years, were included in the study. The mean age was 11.3 ± 4.6 years. One hundred sixty four respondents were female; whereas 127 were male. Ninety seven cases were tested for SARS-CoV-2, 41 had positive RT-PCR result. During the pandemic, 65 children had at least one new-onset cutaneous disease: the most common ones were pruritus (n=23, 35.4%), xerosis (n=17,26.2%), acne vulgaris (n=11, 16.9%) and seborrheic dermatitis (n=11, 16.9%). There was no statistically significant relationship between the presence of any new-onset skin disease during the pandemic and being diagnosed with Covid-19 (p=0.73). However, there was a statistically significant relationship between the number of new-onset acne vulgaris cases and median duration of mask wearing during the pandemic (p=0.025).
Conclusion: The present study shows that the era of the Coronavirus disease, has led to the emergence of new-onset skin problems in the pediatric population due to the use of personal protective equipment. Psychosocial burden of the pandemic also seems to have an impact on the pediatric skin disorders.
Downloads
Download data is not yet available.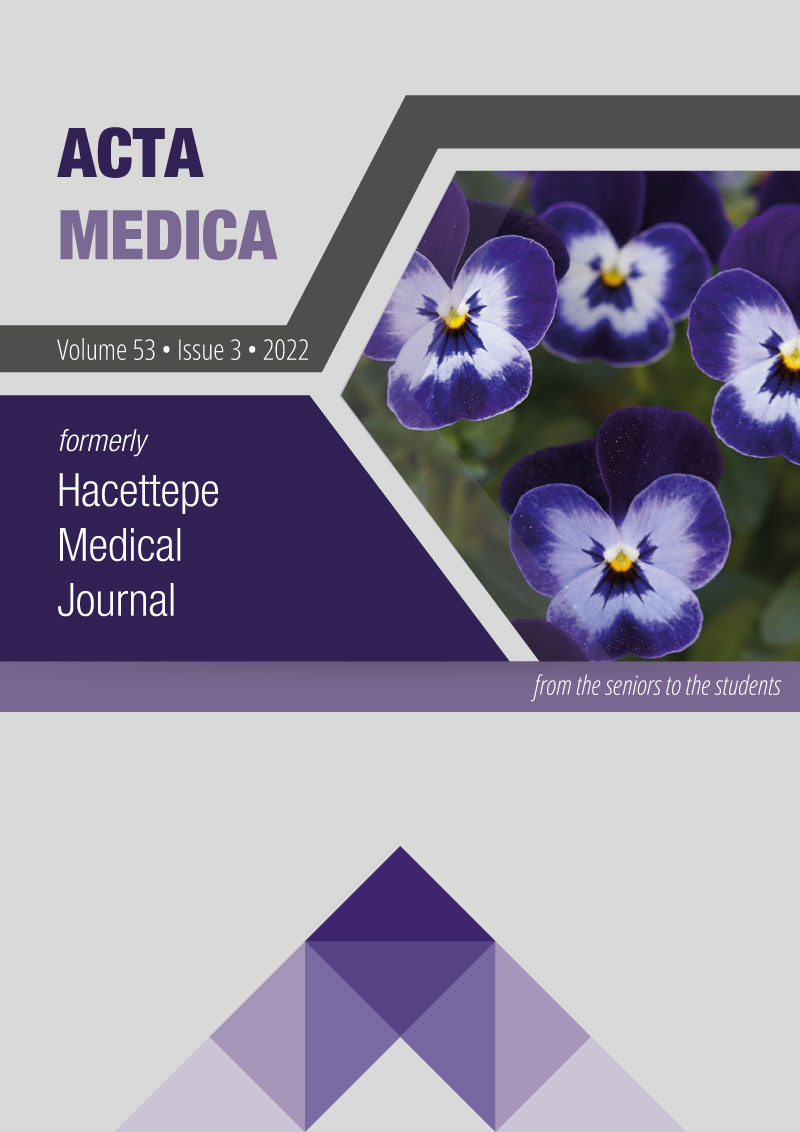 Downloads
How to Cite
Bostan, E. (2022). The Impact of Covid-19 Pandemic on the Clinical Course of Pediatric Skin Disorders: A Cross-Sectional Study: The Impact of Covid-19 Pandemic on Pediatric Skin Disorders. Acta Medica, 53(3), 284–291. https://doi.org/10.32552/2022.ActaMedica.763
License
Copyright (c) 2022 Acta Medica
This work is licensed under a Creative Commons Attribution-NonCommercial-NoDerivatives 4.0 International License.