Biliary Tract Disorders in Patients with Acromegaly: Single-centre Experience
Keywords:
Acromegaly, gallbladder, cholecystolithiasis, cholelithiasis, polyp, sludge, somatostatin receptor ligand
Abstract
Objective: Genetic and environmental factors determine the risk of biliary tract disorders. Several studies have reported an increased frequency of gallbladder disorders in patients with acromegaly belonging to different ethnic groups, however, data for Turkish patients with acromegaly is currently lacking. The primary objective of this study was to evaluate the frequency of diverse gallbladder disorders in Turkish patients with acromegaly. The secondary objective was to determine the risk factors that are related to gallstone formation.
Materials and Methods: Hacettepe University electronic database was retrospectively analyzed. One hundred fifty-two out of 393 patients with acromegaly who had confirmed biliary tract disorders with imaging modalities (such as abdominal ultrasonography, abdominal computed tomography or abdominal magnetic resonance imaging) or surgery specimens, were included for final analyzes. There was not any difference between included and excluded cases in terms of study parameters.
Results: Patients with acromegaly with a mean±SD age of 41±12 years were followed-up for median of 91 months. Gender distribution was equal (76 M, 76 F). Gallstones were detected in 50 (33%) cases. Seventeen (11%) cases had gallbladder sludge whereas 5 (3%) cases had gallbladder polyp. Cholecystectomy was performed in 24 (16%). Age, gender, baseline disease activity, diagnostic delay, disease duration, the presence of type 2 diabetes mellitus and hyperlipidemia were not associated with gallstone formation. Body mass index (β=1.19, 95% CI (1.09-1.30), p<0.001) and somatostatin receptor ligand use (β=3.8, 95% CI (1.2-12.6), p=0.026) were determined as independent risk factors for cholelithiasis.
Conclusions: Biliary tract disorders are common in Turkish patients with acromegaly. Acromegaly patients with high body mass index and on somatostatin receptor ligand treatment had an increased risk for gallstone disease.
Downloads
Download data is not yet available.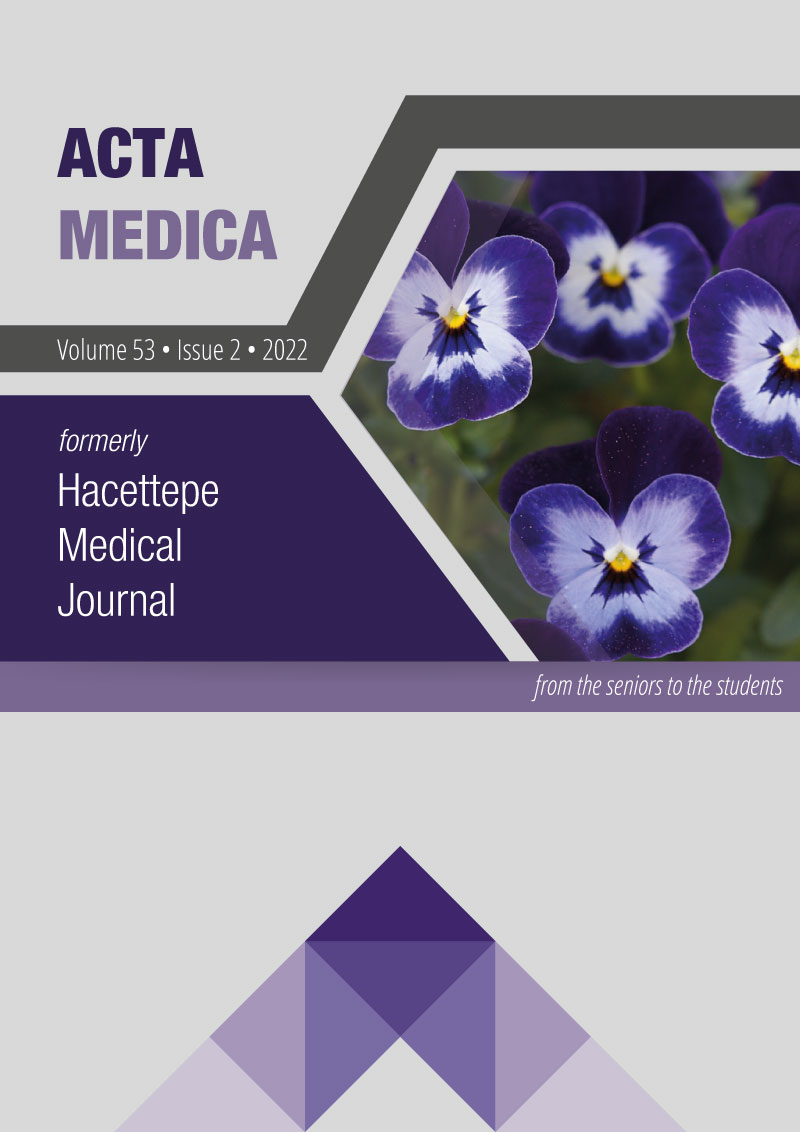 Downloads
How to Cite
Şendur, S. N., & Oğuz, S. H. (2022). Biliary Tract Disorders in Patients with Acromegaly: Single-centre Experience. Acta Medica, 53(2), 180–187. https://doi.org/10.32552/2022.ActaMedica.774
License
Copyright (c) 2022 Acta Medica
This work is licensed under a Creative Commons Attribution-NonCommercial-NoDerivatives 4.0 International License.